"It does not do to dwell on dreams and forget to live."
Sooo I've never read this series before…. I know, I know! Don't shoot me. I was a little curious about what all the hype was about, but I never had the motivation to actually acquire copies of this series. Now that I've read the first book, I think I understand. J.K. Rowling creates a world that is colourful and absolutely bursting with creative attributes. There were so many times when I thought, "Wow! What a brilliant idea," or was astounded by how unique and imaginative it all was. It makes me curious about Rowling's thought process and also super impressed!
"It takes a great deal of bravery to stand up to our enemies, but just as much to stand up to our friends."
Harry was, of course, a sweet and brave boy with perhaps a streak of recklessness. Sneaking a dragon up to the astronomy tower at midnight…? Well, I suppose it was for the greater
good. I loved Ron and Hermione, Harry's best friends. They were adorable and their friendship was admirable; although, there were definitely a few bumps in the road. Then there was also Hagrid and Dumbledore and Neville and so many more characters. I enjoyed them all! Even Snape's creepiness was great. The negative characters gave the cast such a full dynamic. Of course, he-who-must-not-be-named was a chilling villain and the fact that everyone (except Harry) was afraid to say his name made it even more so.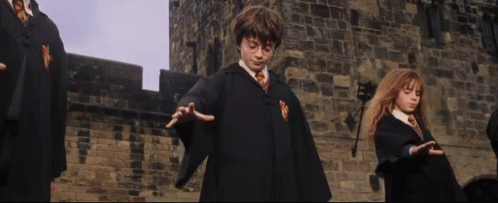 The world-building was absolutely marvellous. Rowling makes everything so vibrant and colourful that you almost, for a little while, believe Hogwarts is real and that your letter will come by owl any day.
"The truth." Dumbledore sighed. "It is a beautiful and terrible thing, and should therefore be treated with great caution."
The pacing of the story had a nice rhythm to it. I think because there was so much to experience and discover, I was kept engaged. I'm curious to discover if this will be the same in the following books. Which leads nicely into my last statement. I will definitely be reading the next book! I actually have already started…. If you have not read this book (which I highly doubt), then you should. If not for the enchanting story, then at least for the experience. Harry Potter is a classic (and I can see why now), so you should add it to your list alongside books such as The Chronicles of Narnia.
Bye for now!