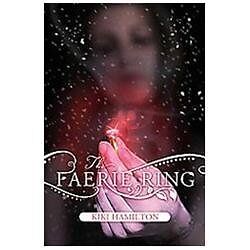 Yes! Yes! Yes! This was such a great read! I thoroughly enjoyed it 🙂 This book was sitting on my to-read shelf for ages and finally, I decided I had better crack into that ever-growing shelf before it becomes monster size.
"We're bound by more than love, it would seem. Destiny seems to have plans for us as well." – The Faerie Ring
To begin with, the world that Hamilton built was quite beautiful. Yeah, it was dark – it was London from the view of a pickpocket. But I think that is exactly what made it stand out to me. Instead of seeing London from the point of view of the nobility, I got to see it through the eyes of someone who belonged to one of the lowest classes.
Which brings us to Tiki. She was loving and fiercely loyal to her little 'family' and this made her daring and brave. However, she was slow to trust which 100% reflected the scars of her past. With all of this said, I'm not convinced there was a lot of character growth. The end result of Tiki seemed rather similar to the first introduction. Now turning the page to the mysterious Rieker… (It's difficult to talk about him without giving anything away… hehe) As a result of his ambiguousness, I felt I didn't get to know him super well, but to parry that, there are three more books in the series. So I think, considering who he is and all, the author was right to portray him this way.   
The plot was gripping and nicely paced. In addition, the writing style was simple and to the point. I don't mind simple writing, it's actually quite nice; however, I am a huge fan of colorful manuscripts that leave me absolutely in awe of their beauty. While this book was not written badly, it just didn't have those flourishes that could have brought it to the next level.
Finally, it was a nice, clean read. There was no sex and the profanity was limited to occasional expressions such as good lord and damn. Further, behind the fantasy, the romance, and the adventure, there was this amazing cause: to help the poor orphans of London. Could you imagine if every novel had an underlying thread like this? Author's would quickly change the world. This was probably one of my favorite characteristics of this book and is what brought it up to a five-star rating.  🙂 
So altogether, I definitely recommend this book. It was a lovely read and I am looking forward to reading the next book in this series and discovering where Tiki's journey will lead to next.  
Thanks for stopping by,
E.J. Hill