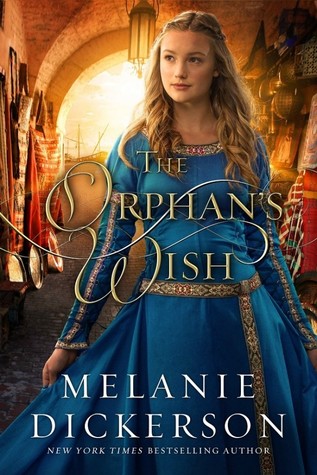 First… GORGEOUS cover! Very compelling. 🙂
I was super excited about this book since I have read and own the first four books in the Hagenheim Series plus The Huntress of Thornbeck Forest. So yeah, I had high expectations.
I was intrigued with the way the story started, Aladdin's mother's death, how he was forced to steal, and how he met the priest and the knight. But I was sad that he was then taken to Germany and we don't see the Middle East again. I had been hoping that Dickerson would integrate the rich culture of the Middle East.
It was interesting that much of the story was told from Aladdin's point of view. I had not been expecting this at all, but it was a nice change. Aladdin was hard-working, honest, and had a firm faith in God; however, he lacked notable flaws. He was, as the other characters even state, perfect. One thing, though, that bothered me about him, was the way he compared Gethel and Kirstyn. It was all about their looks! "She was pretty, he supposed, but not as beautiful as Kirstyn. Her hair was brown and smooth, her brown eyes and mouth rather small and delicate. He couldn't help comparing her to Kirstyn's pale-blonde hair, her full lips, and large blue eyes. Kirstyn was also taller than Grethel." Just NO. A girl's outside beauty does not make her truly beautiful!
Okay, moving on. The idea behind the plot was interesting. I liked how Dickerson took the Aladdin story and made it her own. Retellings do by no means have to exactly follow the Disney version. That's the beauty of a retelling, you can make it your own.
The writing was okay, I had hoped for something more elaborate since Dickerson is an experienced writer.
Finally, as with all of Dickerson's books, this was a clean read and I loved that about it.
But altogether, I felt a little like the publishing process for this book was rushed. If they had spent a bit more time filling out the plot, the characters, and the setting, and embellishing the writing, it would have made this book so much better.
I received a complimentary copy of this book from Thomas Nelson through NetGalley. Opinions expressed in this review are completely my own.
What are your thoughts on this book?
Thanks for reading!
E.J. Hill