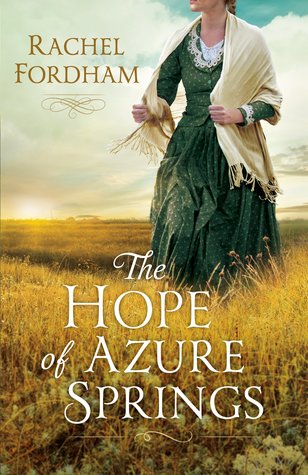 Happy Sunday everyone!
First off, I loved the mystery in this book. I think that out of everything, it was what got me hooked. It kept me guessing all the way to the ending; which by the way, held a few surprises (happy and sad).
The characters were so sweet!
Of course, there was a villain and a mean girl, but the others were kind and caring just totally loveable. They made me want to visit Azure Springs 🙂 Specifically, Em was selfless, hardworking, and tender-hearted. Fordham also made a point of describing her as plain and this was great! Not every heroine is stunningly beautiful. This also led to the discovery, (by other characters) that you should not let others define beautiful for you. "Don't let anyone else decide which kind of beautiful is right for you. You find a girl who brings out the best in you. Who you can see a happy future with. That's your kind of beautiful."  What a profound statement! I had to read that twice because honestly, I couldn't agree more. What are your thoughts?
Anyways, on to the writing.
Over all, the writing was okay. It was a bit cliché in places and didn't bear too many colorful flourishes. One thing which bothered me, was the number of times Em was described as being very thin. I got the picture after it was mentioned only twice… No need to repeat. Also, I found that the dialogue didn't always flow super well. The characters said things which came across as random and created some awkward bumps in the narrative.
Lastly, this was a clean read. There was no profanity and immorality and I definitely enjoyed this.  
Altogether "The Hope of Azure Springs," was a heartwarming story about facing the past and learning to trust others. I recommend it to those who love inspirational romances. 🙂 I received a free copy of this book. All opinions are my own.
Thanks for reading!
E.J. Hill